""
 SELF LOVE: Do you know what makes you happy?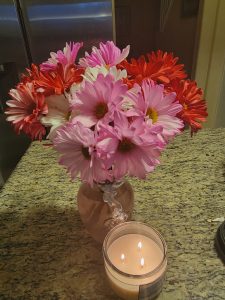 I am sharing this here to encourage you to identify the things that make you feel happy and to be deliberate about investing in them.
My flower vase:
Some time ago I decided to be deliberate about the things that make me happy.
Life can throw us so many things that make us unhappy right? I had lost myself…. and did not even know consciously what MAKES ME HAPPY.
So I prayed about it and asked the holy spirit to show me. Being deliberate about the things he showed me helped me maintain my peace and joy. So one of the things that make me happy are FLOWERS. I began to fill my flower vase with wildflowers which  I cut from around my neighborhood; then something beautiful happened. Jesus began to send me flowers through other people, even people whom I had never told that I like flowers. Jesus is so cool. I believe Holy Spirit was partnering with me to help me learn how to love myself.
 The years of narcissistic abuse had taken their toll on me and I was caught in a spiral of people pleasing. In an attempt to get acceptance from the people in my family whose approval was like a drug to me, I had neglected and refused to accept Gods love towards me.
One day in my daily devotional time as I was crying out to God for deliverance from severe anxiety, depression and from spirit spouse visits (Incubus). I came across Mark 12:31, which says "Love your neighbor as yourself" immediately I felt Holy spirit begin to convict me and to tell me "You do not love yourself, Sharon you are disobeying my commandment and you need to repent, for if you have not received my love for you how can I use you to give pure love to another" I immediately began to sob uncontrollably.
As I repented before God and began to repeat over and over again, " I receive your love for me Jesus" I literally felt some of the heaviness in my chest and heart palpitations I had been feeling slowly start to ease off. I admitted to Holy spirit that I did not even understand fully what he was trying to tell me. In my future devotional moments to come, Holy spirit led me through a series of prayers of healing and began to ask me even throughout my day "Sharon what makes you happy?"
 Most people think having a spirit spouse is some weird, complicated issue but it is simply being covenanted to any other spirit which is not the spirit of Jesus Christ and finding coping skills inspired by that spirit, eventually that spirit will have the power to control your life negatively. Holy spirit showed me I had married a "people pleasing spirit " which is a spirit of idolatry, and has a root in fear and pride. He led me to renounce all these spirits and ask for forgiveness and healing in all the wounded places within me.
  You see God does not hold us responsible for narcissistic abuse, which was done to us, but he holds us responsible for our healing. He is Jehovah Rapha, he is a healer God, and he is faithful. If we will make time before him to be quiet and search our hearts in humility with the light of his word, he will work with us to bring healing to our souls, so that we can be his channel of healing toward others.
 So, I will ask you again; you who are my kind? What makes you happy? Take a week or two to prayerfully ask God to reveal to you the things that truly make you happy not those which you are using to numb the pain of emotional trauma. You might find just like me that this a very big part of the cure to the panic attacks, the depressive episodes and the spirit spouse visits that you have been searching for.
While you are in that devotional space listen to "7 Songs from Heaven" (there is a link for you to listen at the top of this page) as you pray; those are the same songs that Holy spirit sang over me as he pulled back the layers of pain and brought me deliverance. He will do same for you in Jesus' name. I suggest JOY SONG for this blog post. I made some affirmation prayers available for you on this blog page, you can pray them as you let JOY SONG play in the background. Happy healing dear one.
Love
Sister Sharon Mbi